Construction Process
Now that your inground pool design process is complete it is time to move on to your pool construction! There are many steps to your pool construction process and below we outline what steps will be taken during your pool construction.

Inground Pool Construction
1. Permits
Applicable building codes are assessed for your area and permits are obtained accordingly. Our experienced staff has worked closely area requirements and will obtain all necessary permits for your pool construction process. If a grading plan is required, we will recommend a certified engineer and guide you through the process each step of the way. Permits may take anywhere from one day to 6 months to obtain depending on your municipality. We will typically explain the pool construction process for your specific municipality at our first meeting during the in-ground pool design process.
2. Excavation
On the morning of excavation, the sales member(s), site supervisor, and excavators approximately mark out the location, shape, and elevation of your swimming pool. We ask that you are home during this process in order to approve or tweak the design for the final time. Once approval is granted, we begin excavating with either a front-end loader or a Bobcat depending on your site. Simultaneously, additional team member are putting rebar stakes into the ground and setting forms to set the exact location, shape, and elevation. Keep in mind that these stakes will be larger around the entire perimeter of the pool (how much larger will depend on coping size and the engineering of your pool) to allow for the thickness of the gunite. All pre-grading for masonry patios and walls is typically done at the time of excavation.
3. Structural Steel
Reinforcement steel (rebar 1/2″ and 3/8″ diameter) is tied to form a mesh framework on the floor and walls of your pool.
4. Plumbing
Schedule 40 PVC is used throughout the pool. Generally, the size of the piping ranges from 2", 1 ½," and 1". During this phase, you will get a greater sense of the infrastructure that is required to operate your swimming pool. Typically, all pool equipment is set during this phase.
5. Gunite
Gunite is pneumatically applied to create the pool shell. The pool shell includes the base flooring, wall areas, coves, and bond beam of your pool. Following strict specifications, gunite is applied to both sides of the rebar to suspend the bars within the walls and floor to form a solid structure. Water curing of the gunite is critical and the entire pool shell must be hosed or sprayed with water twice daily for one week. This slows the gunite's curing process and is a preventative measure that will minimize shrinkage cracks due to premature curing.
6. Tile/Coping
Several types of coping can be used - usually 12" or 14" in width. The thickness of the coping is generally 1 ½" to 2". Because of the rough nature of some stone, however, the thickness of the coping may vary in some places. Conventional coping materials are flagstone, brick, and cast concrete. If an automatic pool cover is a part of your swimming pool project, the coping must be approved by Ideal Landscape Solutions.
At this phase, Tile is also installed around the pool perimeter and other areas indicated on your design drawing. The installation of a 6" tile band will offer a smooth surface to clean the waterline of residue. Customers may provide their own tile, but all tile selections must be Frostproof and approved by Ideal Landscape Solutions.
7. Masonry
The finishing materials of your choice are applied to the deck area. Decking that surrounds your pool can be concrete, stone, brick, architectural pavers, or many other materials. Concrete decking around the pool is 4″ minimum in thickness. Any deck shape changes, deck additions or deletions should be made prior to forming. Some changes may have additional costs, and no changes to the deck will be made after the deck has been poured and installed.
8. Utilities
On applicable pool construction projects, Gas, Electric and Waterlines are provided and installed by licensed and qualified Utility Contractors. Their work is scheduled and supervised by Ideal Landscape Solutions.
9. Clean-Up
Pool construction debris will be cleaned away from both the interior and the exterior of the swimming pool at this time. We will leave your backyard in a clean and neat condition, ready for final landscape grading and planting by your landscape contractor. We can refer you to several qualified landscape contractors.
10. Fencing
At this point in the pool construction or perhaps sooner, depending upon the specific requirements of your project, the fence needs to be installed. After the next phase, the pool is immediately filled with water. Most Building Departments require the fencing completed before water is in the pool for pool safety reasons.
11. Interior Finish
The pool surface is applied at this juncture in your pool construction. There are several choices of materials available for the interior finish of your pool. There are also many pool colors that you can choose from as well. The most common is plaster that is pneumatically applied, then hand troweled to a non-slip waterproof surface. There are other surfaces available such as Pebble Tech, Pebble Sheen, and Pebble Fina which come in many color variations and can add a great deal to the pool's appearance. When the plaster is completed, we will immediately begin filling the pool and/or spa and, when full, the pool filtration equipment is ready to be activated. We call this the Startup process.
Pool Design Process
In the first meeting, your designer will listen to your wants, budgets, and requirements for your space. Next, we will get to work on customizing a design just for you. Depending on our clients' needs our design team will discuss the level of design plan that best suits your project. Our estimators will discuss your pricing for the design based the key design components. From there our team will get to work and further customize your design based on your feedback. Our team will provide you with a detailed cost estimate and will provide extensive options and details regarding your project. Also visit us at our landscaping show room at 3819 Holly Springs Parkway, Canton Georgia.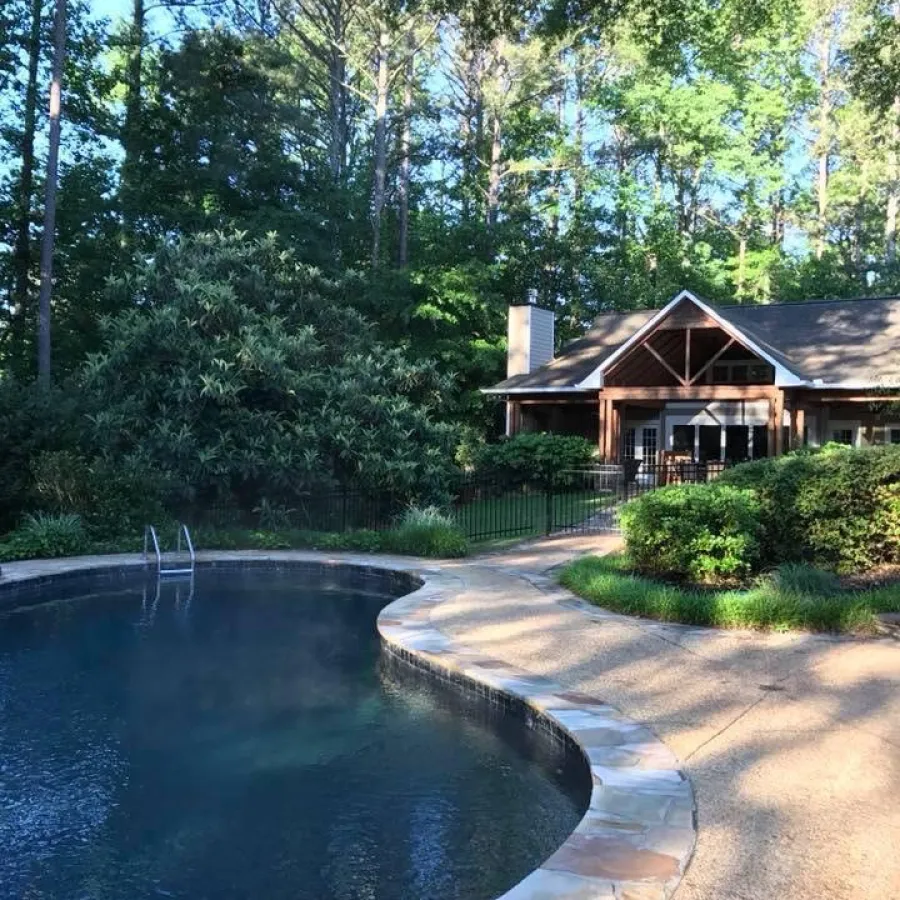 Standard Design Consultation under landscape Design
With this option, it seems to be best with smaller simplified projects and with customers that may have experience in having landscape construction previously. Our team will create your design plan hand-drafted usually on site but some time back at our office depending on the size and or schedule of our estimator. This also seems to work best with clients that would rather discuss the on-site design in person rather than receive a full plan from our Landscape Architect and or designers. This option still allows our clients to present our design to your HOA. The cost of the basic sketch is $200.00 and a credit will be applied to your contract once your proposal is expected. That means it's no charge to you. If you feel that it would be best to have a full-scaled plan developed, then we get right on it. Our design rate of $140.00 per hour will be applied to your total cost estimate - invoice. The standard application is for pool concept use only and will need to move to an Inclusive plan drawn on a survey of your residence not included in this price.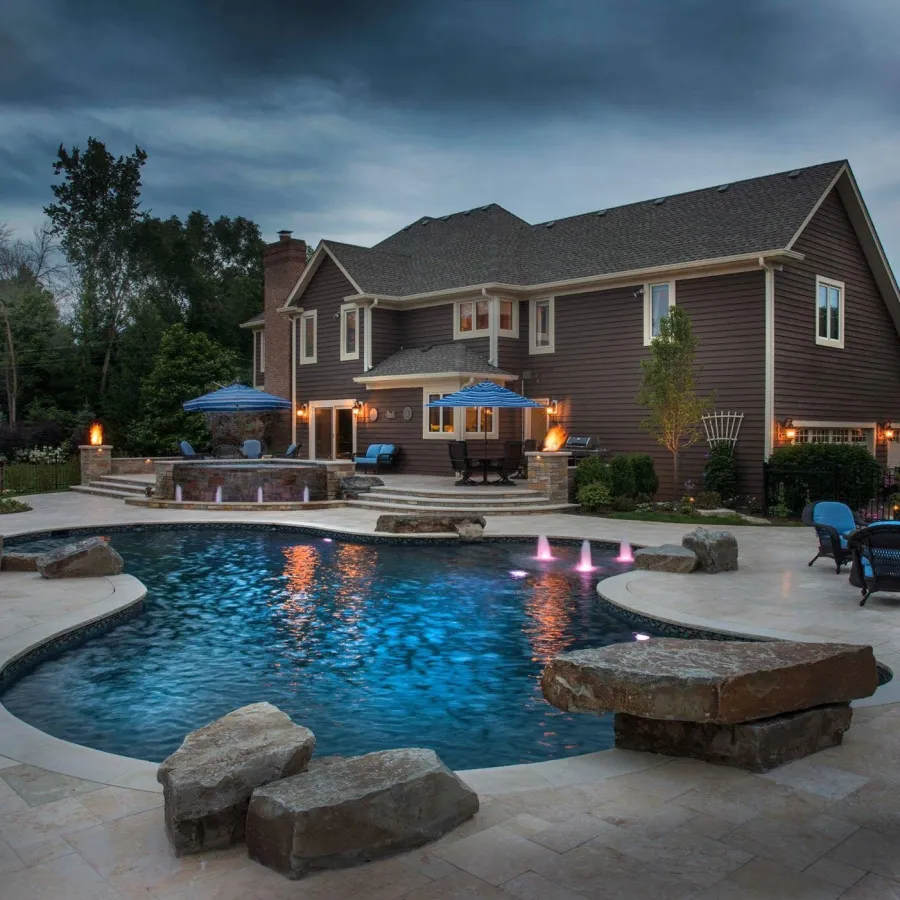 Inclusive Landscape Design
(Pool Construction)
With this option it is most suggested for projects over $35,000 range and to include our 3D rendering design stages. The process works the same expect this level of design will provide our customer of a to scaled outdoor design plan in color. This would generally include our clients seeking pools, extensive outdoor areas, porches, and retaining walls. During the design steps our team will also go over the engineering steps. In most cased a topo graphic survey will be required not only for the design, but for the permitting process. This price does not include surveying and or permits for the project. Our billable rates start at $650.00 minimum for this design stage. We also let our customers know this is a multi-step process and we have many design ideas ready to go to fit your application and space. It's fast and simple fill out the contact form and we are on the way!