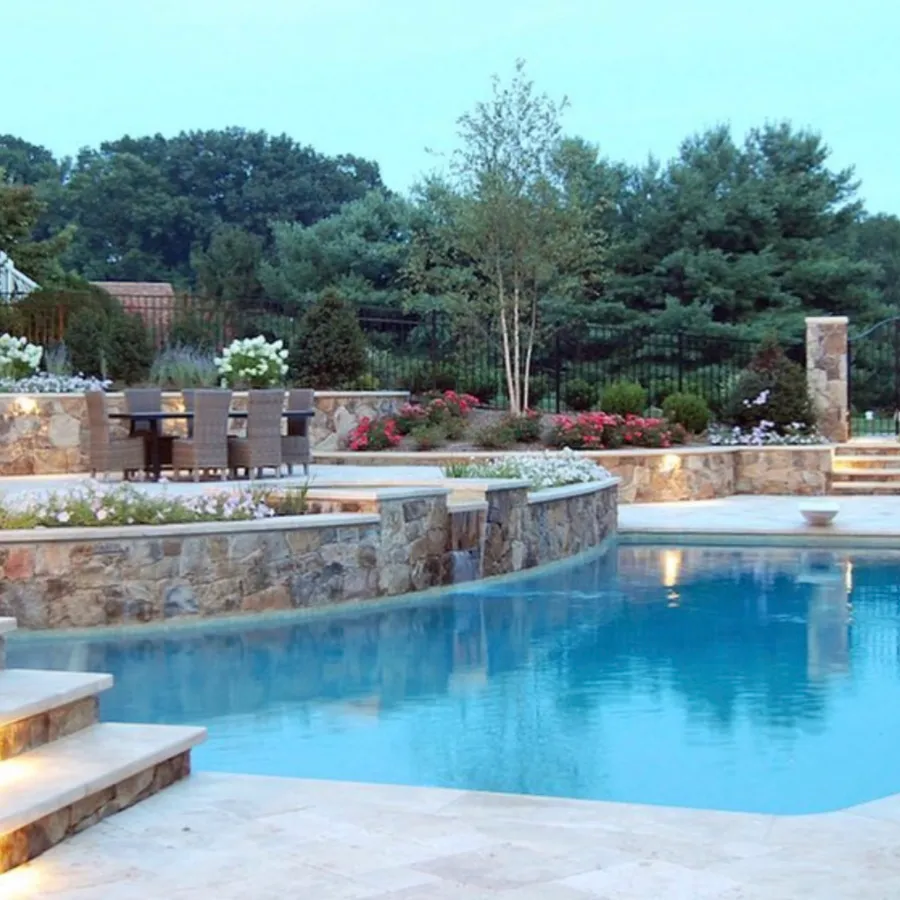 Custom Pools
Thinking of building your dream pool, in your dream back yard? Ideal Landscape Solutions has you covered from Resort Style Pools, Geometric Swimming Pools, Rectangular Swimming Pools, Free Form Swimming Pools and Infinity Edge Pools. Ideal Landscape Pool designers will create creative outdoor living areas and Landscape Design all-in-one when you choose Ideal Landscape Solutions. We have a passion for what we do best. Our clients can expect only the best when it comes to design. We have landscape architecture covered from pool construction design to custom outdoor living areas. Ideal creates award-winning landscape masterpieces through designing seamless vanishing edge water features and ultra-modern pool designs. Ideal seeks transformation in every outdoor space using a combination of plant material and creative hardscaping. Furthermore we can take the vision from design to actual construction. Ideals goals is to work closely with the client throughout the entire process.

Optional Equipment: Each pool construction project we provide our clients with option to purchase Pool Brushes, Skimmer Poles, Pool Robotic Cleaners.

Our Focus
Our focus starts with our initial meeting. Our estimators will align you with our design team and landscape architect every step of the way. Our team will work promptly while providing the vision and creating your amazing back yard. Our clients will meet with our designers to discuss your drafted CAD or 3D rendering outlining the key features of your pool or hardscaping. This will assist you with seeing the full vision. Furthermore, we can take the vision from design concept to actual construction. Our clients can expect Ideal Landscape Solutions working with them every step of the way. Our overall plan's options can include landscaping, engineered structural walls, Covered Outdoor Living Areas, Elaborate Hardscaping, master drainage plan, plant design and irrigation system. Contact our design team so we can get to work!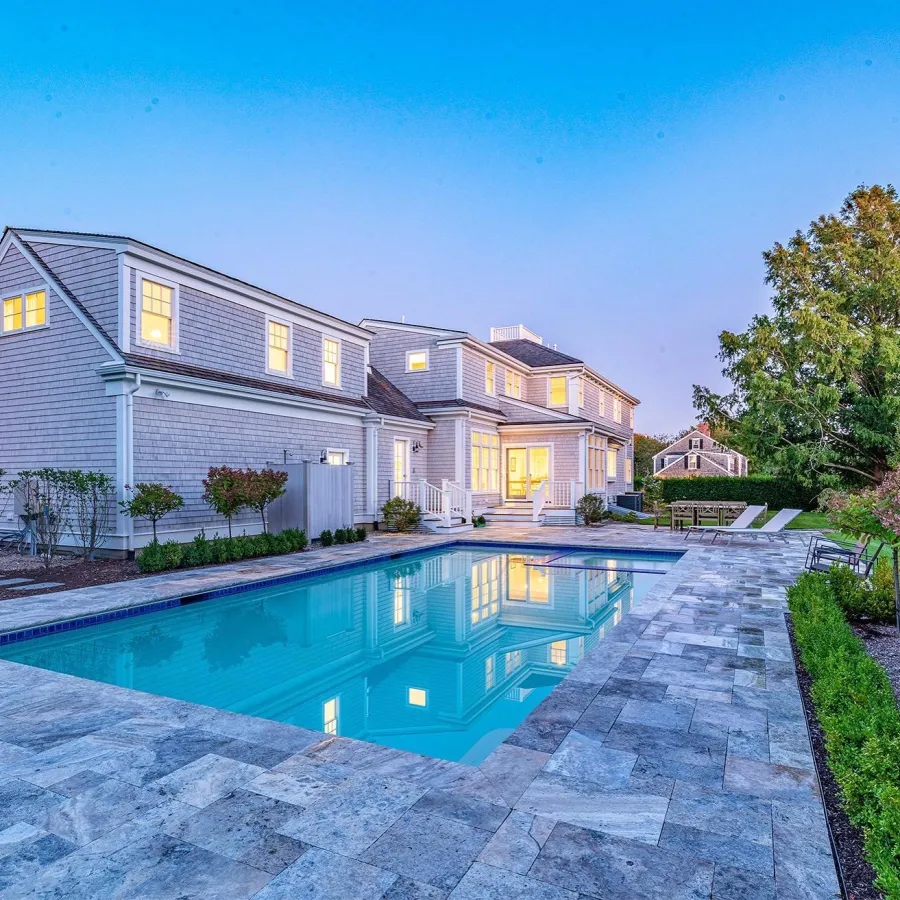 Managing Your Pool Project
Ideal's designers and construction managers pride themselves on how well we manage each and every job. Our goal is not only to explain the process before we get started its that daily weekly communication that we get the job done and keep what we feel client satisfaction. We love what we do and keeping that going through our team extends right to smile on our customer's faces. Our team will also continue to provide vision throughout the process allowing our clients to add on components to the project such as additional landscaping, water features, and outdoor kitchens.

Pool Design Process
1
Consultation
In the first meeting, your designer will listen to your wants, budgets, and requirements for your space.
2
Design
Next, we will get to work on customizing a design just for you. Depending on our clients' needs our design team will discuss the level of design plan that best suits your project. Our estimators will discuss your pricing for the design based the key design components.
3
Estimate
From there our team will get to work and further customize your design based on your feedback. Our team will provide you with a detailed cost estimate and will provide extensive options and details regarding your project.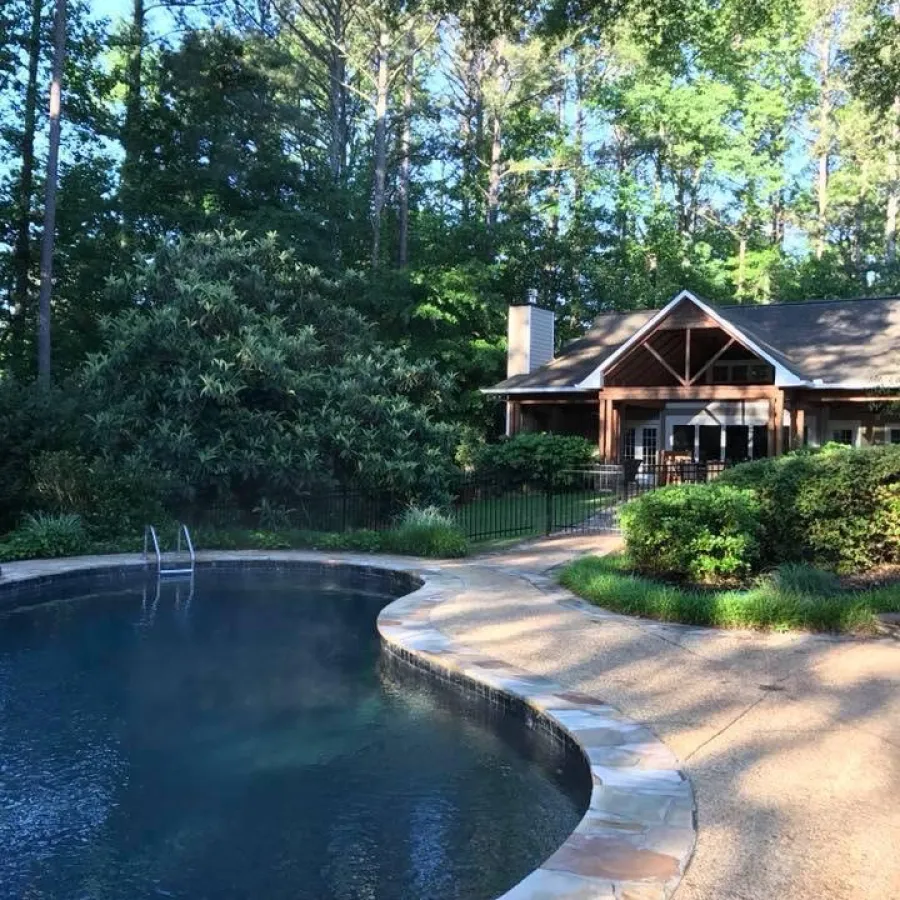 Standard Design Consultation under landscape Design
With this option it seems to be best with smaller simplified projects and with customers that may have experience in having landscape construction previously. Our team will create your design plan hand drafted usually on site but some time back at our office depending on the size and or schedule of our estimator. This also seems to work best with clients that would rather discuss the on-site design in person rather than receive a full plan from our Landscape Architect and or designers. This option still allows our clients to present our design to your HOA. The cost of the basic sketch is $200.00 and a credit will be applied to your contract once your proposal is expected. That mean it's no charge to you. If you feel that it would be best to have a full scaled plan developed, then we get right on it. Our design rate of $140.00 per hour will be applied to your total cost estimate - invoice. The standard application is for pool concept use only and will need to move to an Inclusive plan drawn on a survey of your residence not included in this price.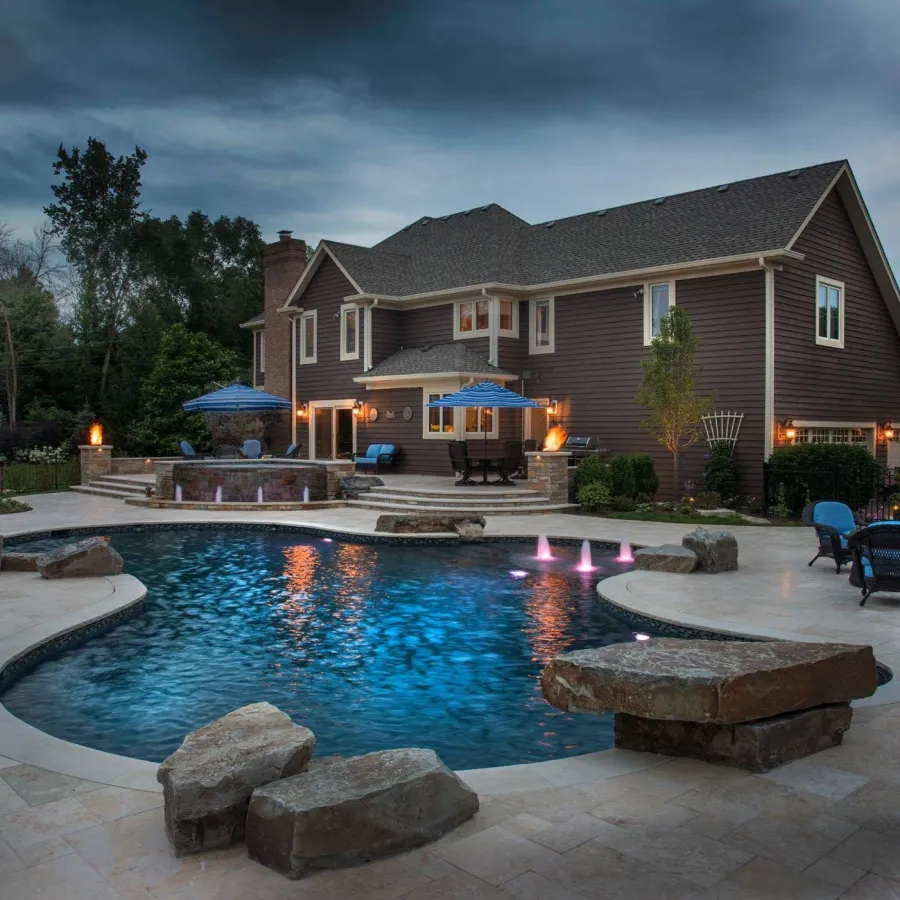 Inclusive Landscape Design
(Pool Construction)
With this option it is most suggested for projects over $35,000 range and to include our 3D rendering design stages. The process works the same expect this level of design will provide our customer of a to scaled outdoor design plan in color. This would generally include our clients seeking pools, extensive outdoor areas, porches, and retaining walls. During the design steps our team will also go over the engineering steps. In most cased a topo graphic survey will be required not only for the design, but for the permitting process. This price does not include surveying and or permits for the project. Our billable rates start at $650.00 minimum for this design stage. We also let our customers know this is a multi-step process and we have many design ideas ready to go to fit your application and space. It's fast and simple fill out the contact form and we are on the way!

Pool Features
Our goal and focus are to provide the vision within our consult meeting's and provide quality options. Listed are key items that we should discuss and how it fits within your custom pool design and budget. Here is a list of key items to discuss with your designer.
Custom Seating Benches
Custom Seating Benches can be created within the pool's layout. This will allow for the pool to have the enjoyable depth's for swimming, while allowing the key seating benches used for relaxation and hanging with the family or friends.
Tanning Ledge
Tanning Ledge could also be called a Tanning Shelf, Baja Shelf, or Sun Shelf. Tanning Shelves, Tanning Ledges is a very shallow shelf within the pool that typically consistent of a depth of 9". The Tanning Shelf acts as the main entry into your pool and generally spans the full or partial width of the design. Within the tanning ledge bubbler's can also be added.
Vanishing Edges or Infinity Pools
Vanishing Edges or Infinity Pools are known for the Dramatic effect. Many pool owners find this is just what their backyard oasis needs to bringing their pool to the next level of design. Infinity pools are very effective if you have a long or expansive view as it gives the impression that the pool melts into the horizon. If you have a less expansive area you can still gain the effect of the vanishing edge that is dropping water into a lower basin.
Sheer Decent Water Features
Sheer Decent Water Features can be a key item to adding tranquility while enjoying the options of sheer decent options. The Sheer Decent waterfall produces a clear arc of water that has a wide range of water effects that can easily be adjusted to suit any mood or environment. You can choose a silent, a glass-like sheet of water, or a rushing mountain waterfall! Options and not limited to sheer decent Cascade Water Fall, Sheer Decent Rain Water Fall, Sheer Descent with Fiber Fall color feature, Sheer Decent Arched allows for a 45' degree naturally arching the fall. Lastly, let's consider a fire feature with a sheer decent water fall.
Custom Rock Features, Accent Features, Grottos
Custom Rock Features, Accent Features, Grottos can be created using natural and or manmade rock that will provide a dramatic effect on your swimming pool design. From elegant pebble work to a wall or a deck with a boulder framing your custom pool deck. Rock features are key and memorable feature of your pool design. Key Rock Features can also be used to create stone bridges used for access and spillways into the pool. Let's discuss how this can be designed as apart of your design.
Natural Stone Water Features
Natural Stone Water Features can be used to not only to bring the natural landscape directly into your pool, it can also be utilized as a key feature of your back-yard design. The impressive sound's and effects from a natural water feature is carefully thought out by selecting each water fall stone and drop in elevation. When it comes to water features the other key element is the design of the lighting. In most cases we will light up each fall with high quality under water lights. There are many lighting option's that will change the effects of the nighttime enjoyability. Water features can vary in size from small to large multiple stream depending the layout size, design functionality and budget. If you are seeking large boulder and impressive streams, we have your covered. We custom pick out your stone and encourage our clients to hand select key features.
Pool Lighting
Today's pool lighting adds beauty and pizzazz. One of the most popular custom pool features, pool lighting can give you more time to swim in your pool and create a great ambience for outside dining. Options for lighting include standard white lighting, multi-colored lighting and fiber optics. While standard incandescent and halogen pool lights are always great options, fiber optic lighting is a fantastic way to bring striking color to your nighttime poolscape. As a proud partner of Hayward Pool Equipment products, we are happy to provide the best color pool lighting available. While enjoying a nightcap or an evening swim, experience an array of brilliant Watercolors that transport your imagination to lush emerald islands, Caribbean seas, or the floating in soft, warm rose petals. Hayward pool and spa lights provide the finest and brightest colors for your pool and spa. Engineered with superior design, the Hayward lights not only saturates your pool with ten vibrant colors, but also creates delightful sparkling ripples on the water surface. Whether swimming or just lighting up the night, you'll enjoy endless nights of brilliant color.

Pool Heating Options
Heat Pumps
Heat pumps are perfect for swimming pools with auto covers as these types of heaters work gradually throughout the day. This electric pool heater can heat your swimming pool cheaper than propane or natural gas and with or without the sun. Heat pumps operate by drawing in warm air and converting it to warm water however they do not have the full power of a standard pool heater.
Gas Pool Heater
A gas pool heater guarantees swimming pool owners heat no matter the weather. If a fuel source line is already ran, the initial setup cost for a gas heater is less than a heat pump. However, the price of gas must be considered by pool owners. A gas heater provides the most significant temperature rise out of most swimming pool heating options. Some gas pool heaters work specifically with natural gas while others operate by using propane gas. Deciding between the use of propane gas or natural gas will depend on the location of your swimming pool and the swimming pool size.
Like geothermal heating, a heat ex-changer can transfer all the heat from your home directly into the water. When compared to air, water is a more efficient heat transfer medium. Generally, when running your homes air conditioning, the heat is usually thrown back into the atmosphere, however with a heat ex-changer that same heat is instead transferred back into your swimming pool to help heat your swimming pool water. This type of pool heater can provide electricity savings by heating your pool with free energy. Once your swimming pool reaches a predetermined temperature, the system will switch back to a normal cooling mode.